Zero Effort Brew - Brazil
FOR BEST RESULTS:
Fill your cup with 200ml of water at 70C.
Handy coffee geek hint: 200ml looks like 3 quarters of an average mug and 70C is hot to sip, but not freshly boiled.
Burned mouth and beans do not make for a happy sipping experience.
Then just stir and voilà!
A truly Zero Effort Brew!
5 x 3g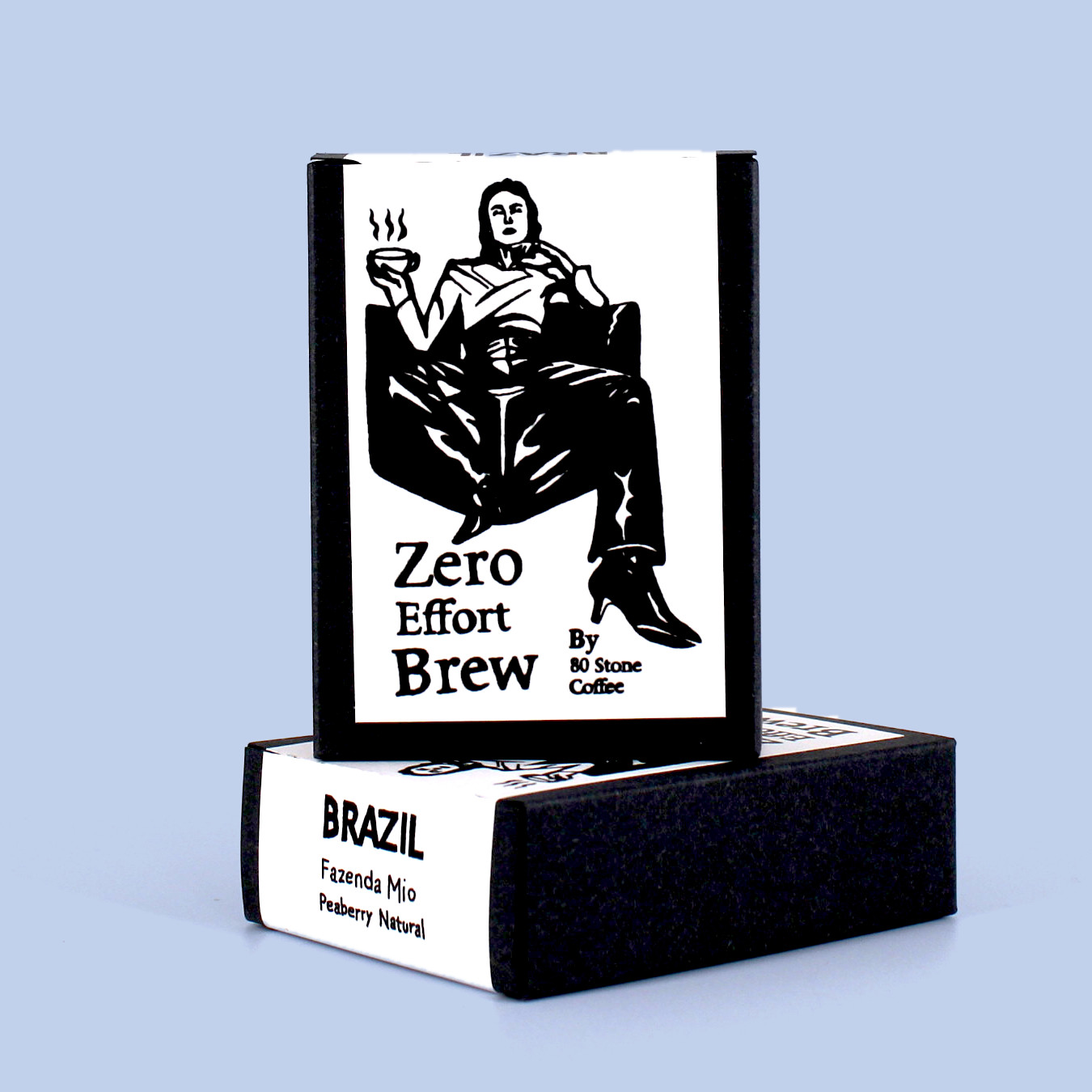 ZONE
Monte Santo
de Minas
CULTIVAR
Yellow Catucaí, Mundo Novo, Yellow Bourbon
PROCESS
Natural processed peaberry beans
Fazenda Mió are to us associated with some of the best coffee Brazil has to offer, and their dedication to quality, and their attention to detail is made evident with every coffee we purchase from them; this micro-lot is no exception. Upon receiving the samples, we also see a detailed account of the precise dates the coffee cherries were harvested, processed, dried, rested, sorted, examined, and finally given the final checks before being shipped over to us, and we can taste the difference. The cleanliness of the cup, the clarity of the taste, the uniformity of the beans, these are all a testament to the hard work of Mió and their farmers.
Based in Minas Gerais, Fazenda Mió have long been involved in the production, processing, logistics, and sale of high quality Brazilian coffee on their 1,589 hectare farm. The use exclusively Honey and Natural processing to enhance the flavour of their coffees, and grow a diverse range of cultivars, including Yellow Bourbon, Geisha, and Mundo Novo.
This particular micro-lot is a Yellow Catucaí, which grown at 1100 masl, provides a greater acidity than a lot of Brazilian coffee, and the use of a Red Honey processing method increases the overall sweetness, together with the high-focus cultivation practices, this creates a Brazilian coffee which is a step above the rest in terms of cleanliness and clarity.
80 STONE COFFEE ROASTERS LONDON
Speciality Coffee Suppliers