AEROPRESS
– CLASSIC RECIPE –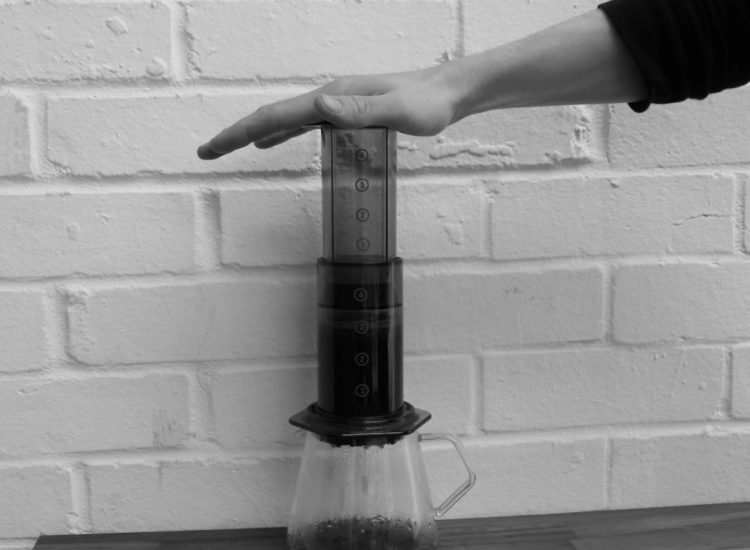 COFFEE   –     14g
WATER    –    210ml [92°C to 96°C]
—
0:00 – 1st   POUR – 55ml
3 STIRS
0:45 – 2nd POUR – 155ml
3 STIRS
1:00 – INSERT PLUNGER
1:55 – BEGIN SLOW PLUNGE
2:55 – FINISH
The AeroPress is a milestone in coffee brewing. It is affordable, versatile, easy to use, and creates great coffee in a variety of different ways. In fact, there are so many possibilities with the AeroPress, that there is even a competition based exclusively on brewing coffee with this device; it can do anything from replicating espresso-style coffee, cafetière, and filter coffee, all in one simple, small device, that is easy to clean and travel with. It was invented in 2005 by Alan Adler, who sought to create what he saw as the perfect coffee brewing device, that was simpler and more consistent than anything else on the market at the time, and for many, this is still the case. It is a real fan-favourite, and it is definitely a favourite of ours too.
This is one of 3 recipes for the AeroPress on our website. This is the classic, go-to AeroPress recipe for us. Defined by a clean, sweet, juicy, bodied final cup, that is great for getting a little bit more out of a coffee.
What you'll need
An AeroPress and AeroPress filters
14 grams of coffee
Grinder
Water
A Decanter
A scale/timer
Your favourite mug
Steps
Grind 14 grams of coffee to a setting slightly finer than filter.
Heat your water up to between 92-96°C, we prefer a temperature slightly cooler than on other filter methods.
Insert two AeroPress filter into the cap, and clip it in the Aeropress body.
Preheat and rinse the AeroPress, and its filter, then discard of the water.
Place the AeroPress and decanter onto the scale, and weigh in the coffee, gently shaking the AeroPress to level out the coffee. Then tare the scale.
Start the timer and pour 55ml of water onto the coffee bed, then stir gently 3 times.
Wait until 45 seconds. Pour the remaining 155mls to reach a total of 210ml, then stir the coffee 3 times, and place the plunger into the AeroPress to create a seal.
Wait until 1:55, and begin to very slowly, and evenly press the plunger down until you hear air escaping the AeroPress at the end, this should be at 2:55.
Remove the AeroPress from the decanter, rinse and clean it.
Swirl the decanter, serve and enjoy.
How to adjust
 Using hotter water temperatures will give you a sweeter cup, whereas using cooler water will generate a brighter, more acidic brew.
Try finer ground coffee for a sweeter, thicker more bodied cup, and coarser ground coffee for a lighter cleaner cup.
You can increase or decrease your dose to get a stronger or weaker brew.
This section is for those who want to go all in. It provides the extra details regarding our method, as well as the results we get when brewing, and are to serve as both guidance, and reference for those who want it.
Extraction
     Grind:                    650μm – 750μm
     Yield:                     ≈85 % [178.5ml]
     TDS:                       1.56%
     EY:                          20.06 %
Water content
     pH:                          7.0
     PPM:                      105
80 STONE COFFEE ROASTERS LONDON
Speciality Coffee Suppliers