Take a Look at 80 Stone's New Coffee Roaster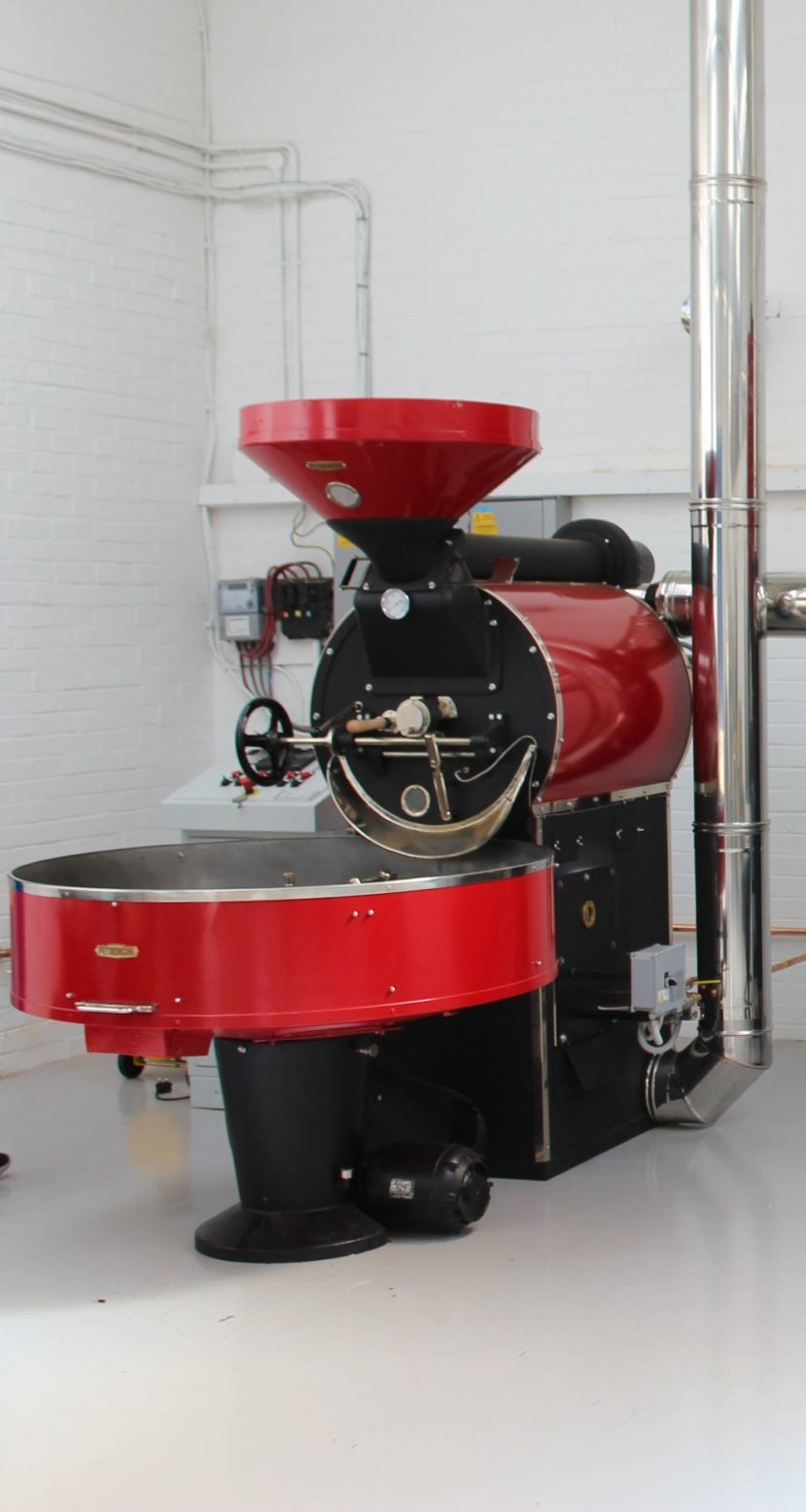 You may have heard recently that we at 80 Stone Coffee have moved our coffee roasters in London. We've moved down south from the Fulham area to Croydon. We did this so we could have a bigger space for our coffee roasting equipment. We've now invested in some really great coffee roasting machinery that helps us roast more efficiently in large quantities and allow us to make sure that is easier to replicate the same roasting profile every single time. Let's take a look at some of the challenges with roasting and how this machine helps us.
How Coffee Roasters Work
How does coffee make its way from a small flavourless green bean into the final morning cup of coffee? Roasting transforms the chemical and physical characteristics of the coffee bean to prepare it for consumption while allowing for the flavour of the coffee bean to change, resulting in its complex flavour and taste. Finding the perfect balance of roasting is optimal for producing the most delicious coffee.
Every bag of beans is roasted to order and our labels show origin, roast date, and tasting notes, ranging from sweet strawberry-like coffees to nutty and cocoaey ones. Similar to how beer brewers break down the starch in the grain into sugar, roasting beans is all about forcing the complex polysaccharides to the surface of the bean. As those sugars caramelize, the colour turns from green to brown.
Our New Coffee Roaster: The Petrocini 30kg
We have invested in this new coffee roaster to help us to create a more uniform product. Our new roaster is a 30kg Petrocini and this particular roaster heats the beans quite differently than our previous machine.
The Petroncini uses a method of roasting that is based on the convection system, whilst our smaller 5kg F.I.M.T. roaster is based on the a combination of convection and conduction method. Let's look at how they work.
Coffee Roasters: Conduction vs. Convection
These are different ways of heating something. It isn't exclusive to just coffee roasting. The most obvious example is when cooking food. When you are frying a steak on a hot cast iron plate. This cooking method utilises conduction. Now imagine the same piece of meat suspended inside an oven and treated with hot air. That would be convection.
You can use either of these methods with roasting coffee. Roasters using conduction means the beans are coming in contact with a hot metal surface – the surface of the drum where roasting takes place. Roasting using convection means that heat is applied indirectly using hot air.
The two processes are no better than one another, they both produce great coffee but in different ways. The convection style has the heat penetrate the coffee bean and roast it from the inside out. The conduction style roasts from the outside in. These both create different flavour profiles. For example, convection has the potential to mute the acidity. A true coffee roaster can create the same flavours with different styles, it's just a choice of approach.
Why We Bought a new Coffee Roaster
The life of coffee roasters in London is a busy one. Upgrading to a bigger roaster allows us to produce more consistent batches of coffee and it will be good for us and our customers. With the old 5kg roasting machine the operator used to spend 8 hours a day in front of the machine and that can result in some inconsistent roasts at the end of the day because it can be very tiring.
Now we have a screen that shows the roasting curve and allows us to make sure that is easier to replicate the same roasting profile every single time. In addition to that, we will need to use the roaster no more than 3-4 hours a day, making the job a lot easier. We will still be using our 5kg F.I.M.T roaster to roast small batches of coffee.
As mentioned before, a coffee roaster can create the same flavours with the two different styles of roasting, so don't expect any change of flavour in our beans. This is purely a stylistic choice to allow more consistent blends.
More About How we Roast Our Natural Ethiopians Beans
Our Natural Ethiopians have always been some of our most popular coffees and we thought we could share with you the technique that we use to roast those particular beans, and why we believe this style helps create great tasting coffee beans.
Ethiopian Naturals Coffee Beans Roasting Method – Initial Stages
We always roast those beans with our 5kg F.I.M.T. roaster, roasting 4.5kg batches at the time. Most of the Natural Ethiopians are grown very high and we tend to roast high altitude beans quite quickly to highlight their natural acidity, as they usually are very dense and can hold a lot of heat very well.
Due to the fact that they are naturally processed, we expect the beans to be a little softer and delicate. This means we are more careful when applying the heat. We drop the beans in a slightly hotter drum than usual and we start the roasting process with a very low flame to get the beans accustomed to the high temperature. This is technique is called soaking.
Ethiopian Naturals Coffee Beans Roasting Method – Main Roasting Stage
After 1 and a half minutes of soaking, we raise the flame to get the roasting going. Up until 6 minutes, we kept a high flame and continuously check the beans to make sure they are not scorching or tipping.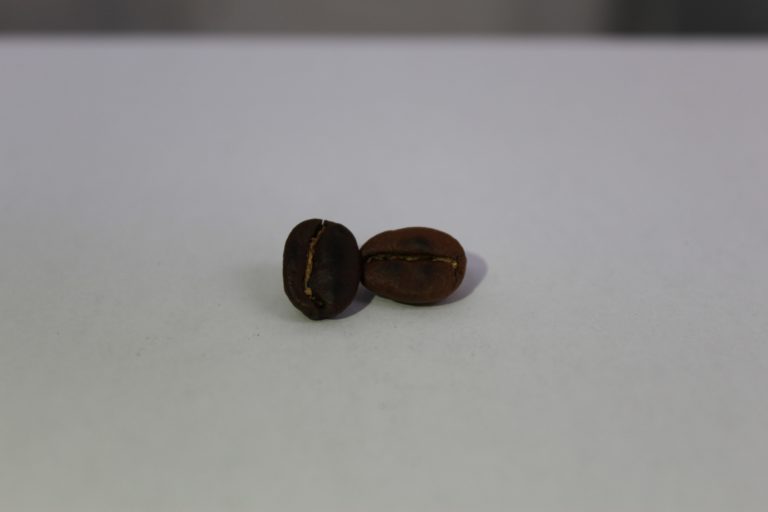 There is a great article on Perfect Daily Grind that explain some of the roasting defects such as scorching and tipping. At this point, the beans were turning yellow and we kept working with a relatively high flame. At around 8 minutes we lowered the flame a little as the beans were becoming easier to scorch. This is where we do things a little differently from our other beans.
Using The Sense of Smell When Roasting Coffee
During roasting, the smell of the beans changes a lot. It changes from a green vegetable like smell to a more doughy/hay aroma before starting to smell more like the coffee that we all know. Depending on the variety or the origin of the beans, the smell can be very different. When we began roasting coffee we started to train our nose and learn to be able to identify the change of the aromas during the roasting process. We found that with Natural Ethiopians there is a sudden sharp change of smell.
The First Crack
The first crack happens when the coffee bean expands and the moisture begins to evaporate. When this happens, it will build up pressure that causes the beans to crack open. During the first 10 seconds of the first crack, the beans suddenly start to release a strong fruity smell and we stop the roasting no more than 3 seconds after that very moment.
We have roasted about a dozen of different Ethiopian natural beans over the years. We found that most of the time, this is the best roasting colour for these particular beans. We have tried to push the roast few seconds longer but we always found on the cupping table that the dark roasted notes come through a little too much. We still find if fascinating how only 5-10 seconds more of roasting can radically change the taste of the beans.
We also noticed that most of the natural Ethiopian beans that we worked with taste better after 3 weeks after the roasting date, so it is better not to drink it when it is too fresh. This happens because the roast colour is very light and the beans are still quite hard and need more time to de-gas and to mature into a strong fruity cup.
Contact us Today
If you're interested in browsing our shop for some coffee or yourself or if you want to explore our wholesale coffee opportunities, contact us today! We specialise in supplying cafes and offices with great coffee. Not only can we supply you with coffee but we can help provide you with great equipment and barista training. We also have a cafe so feel free to swing by and say hi!
80 STONE COFFEE ROASTERS LONDON
Speciality Coffee Suppliers