CUPPING IS ONE OF THE MOST IMPORTANT ASPECTS
What is Coffee Cupping and How Does It Help Coffee Roasters?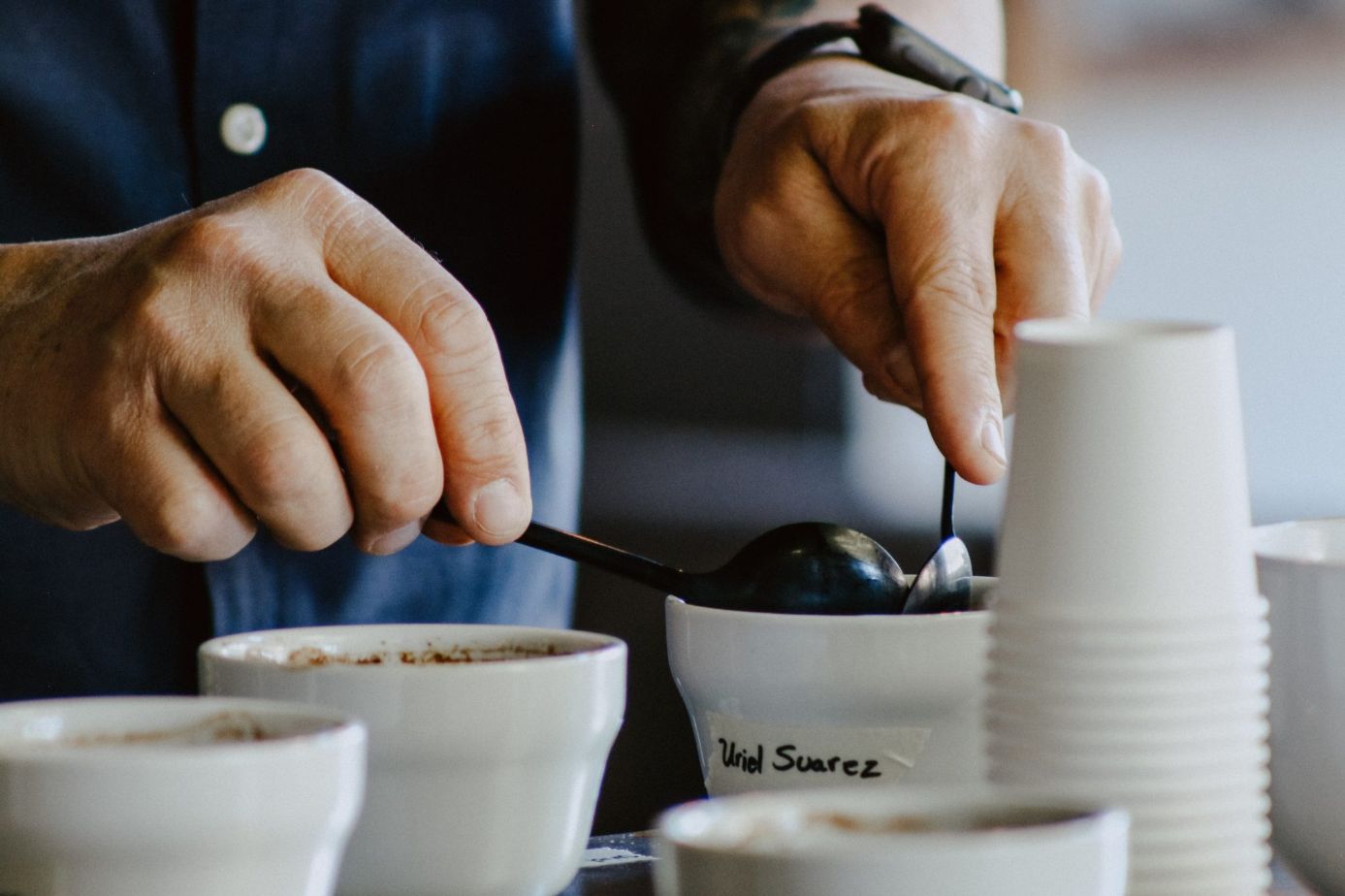 When it comes to the roasting process, coffee cupping is one of the most important aspects. Yet, it is not as well known as the roasting or sourcing side of the business. If you've had a cup of specialty coffee, there would have been rigorous cupping sessions carried out before the beans reached you. It is an essential stage to the process. 
So what exactly is cupping, why is it so important and how do you do it? We shall explore all of these ideas below.
What is Coffee Cupping?
Coffee cupping is an essential stage in coffee production. It is the practice of observing the tastes and aromas of brewed coffee. It is a professional practice but can be done informally by anyone or by professionals known as "Q Graders." Once beans have been sourced, cupping informs the roasters of flavour and dictates the roasting process. 
A standard coffee cupping procedure involves deeply sniffing the coffee, then loudly slurping the coffee so it spreads to the back of the tongue. The coffee taster attempts to measure aspects of the coffee's taste, specifically the body, sweetness, acidity, flavour, and aftertaste. Since coffee beans embody telltale flavours from the region where they were grown, cuppers may attempt to identify the coffee's origin.
Tasting Notes for Cupping
As mentioned before, cupping sessions are designed to measure different aspects of coffee taste. It is broken down into a few main categories of taste, each made up of different components used to describe the overall taste of the cup. 
Aroma
This is the smell of the cup. The different aspects of aroma will be identified during the initial stage of cupping, where you deeply sniff the cup of coffee. Here are some of the common notes to describe the aroma:
Chocolate-like

– This aroma descriptor is reminiscent of the aroma and flavour of cocoa powder and chocolate (including dark chocolate and milk chocolate). It is an aroma that is sometimes referred to as sweet.

Caramel

– This aroma descriptor is reminiscent of the odour and flavour produced when caramelizing sugar without burning it. Tasters should be cautioned not to use this attribute to describe a burning note.

Earthy

– The characteristic odour of fresh, wet soil or humus. Sometimes associated with moulds and reminiscent of raw potato flavour, a common flavour note in coffees from Asia.

Floral

– This aroma descriptor is similar to the fragrance of flowers. It is associated with the slight scent of different types of flowers including honeysuckle, jasmine, dandelion and nettles. It is mainly found when an intense fruity or green aroma is perceived but rarely found having a high intensity by itself.

Fruity/Citrusy

– This aroma is reminiscent of the odour and taste of fruit. The natural aroma of berries is highly associated with this attribute. The perception of high acidity in some coffees is correlated with the citrus characteristic. Tasters should be cautioned not to use this attribute to describe the aroma of unripe or overripe fruit.
Taste
This comes in the second stage, where you slurp the coffee to the back of your mouth so you can experience all the tasting notes. Here are some of the common tasting notes:
Acidity

– A desirable sharp and pleasing taste particularly strong with certain origins as opposed to an over-fermented sour taste.

Bitterness

– This taste is considered desirable up to a certain level and is affected by the degree of roast brewing procedures.

Sweetness

– This is a basic taste descriptor characterised by solutions of sucrose or fructose which are commonly associated with sweet aroma descriptors such as fruity, chocolate and caramel. It is generally used for describing coffees which are free from off-flavours.

Sourness

– This basic taste descriptor refers to an excessively sharp, biting and unpleasant flavour (such as vinegar or acetic acid). It is sometimes associated with the aroma of fermented coffee. Tasters should be cautious not to confuse this term with acidity which is generally considered a pleasant and desirable taste in coffee.
Mouthfeel
This is a note you should look out for during the slurping stage. It is more the texture of the drink and what it feels like physically to drink, as this affects the flavour and taste. Here are some of the common tasting notes:
Body

– The physical properties of the drink when tasting. This can be characteristics such as thick or thin etc. 

Astringency

– an after-taste sensation consistent with a dry feeling in the mouth, a trait some find undesirable in coffee.
Why Do Cupping?
Anyone can hold a coffee cupping and it can be an enjoyable way to learn more about different coffees and find your favourites. We have even carried out some coffee tasting sessions at our roastery before. 
It can be very simple (and enjoyable) and there are no right or wrong answers. Your palette may pick up hints of a taste that the most season cupper would not, as each person can find different things in the cup.
But for those working in the coffee industry, it's an important exercise that helps you maintain the quality of your product. For coffee roasters, it's how you design and test your blend for your store or coffee shop. For baristas, cupping helps understand different coffees in order to better market and serve them.
When creating a new blend, we need to pick the coffees that best meet our guidelines and match the tastes of our clientele. Cupping allows us to find the right combinations for really greatcoffee. It's also important to eliminate coffees which may not be up to standard.
How Often is Cupping Carried Out?
As cupping can be a method of quality control for the coffee products, it should be carried out quite regularly. Many baristas and roasters will carry out a general cupping session a few times a year for all existing beans they sell, to ensure they still have the desired flavour or if any improvements can be made. 
It is also a key step in the process of new roasts that are being sold. Before they are fit for sale, coffee roasters will experiment with the flavour repeatedly. With cupping sessions being carried out, changes to the roasting process based on these tasting sessions and more cupping until the desired coffee flavour is reached. 
How to Do Coffee Cupping
As mentioned before, you can carry out a cupping session regardless of whether you're a professional or not. Don't worry, it's a painless process and is often a lot of fun. Here is a list of things you'll need and the steps you need to carry out. 
What you'll need:
Coarsely ground coffee

Cupping vessels 

Kettle Water

Cupping Spoon

Timer
Preparation
Coffee cupping is usually done in the morning as it is understood that after 12pm, your palate is too warm to be tasting coffee properly. On top of that, spicy or strongly flavoured foods are to be avoided about four hours before the cupping session to keep the palate clean and sensitive. When cupping, the ratio of 8.25 grams of coffee, to 150 ml of water should be used.
Step 1 – Brewing
There are a huge number of standards that the speciality coffee association requires for cupping. Even the water used to brew coffee is carefully considered. The temperature needs to be taken into account too, being  between 92.2 – 94.4 before pouring over the coffee grounds. 
Step 2 – Remove the Crema
Allow water to imbue grounds for 3-4 minutes then break the crust of the bowl. Stir gently, allowing grinds to sink to the bottom- those left on top should be discarded (use spoons to scrape away). The surface should be clear of grinds before you start smelling and sipping.
Step 3 – Smell
Before drinking the coffee sample, you should smell it. There should be an initial smelling stage, where you share your thoughts and notes with the other members of the cupping session. After this, you take into account what everyone has said and begin to smell for a second time and discuss further. 
Step 4 – Taste/Slurp
Fill deep spoon and bring to your lips. "Inhale" the coffee on the spoon by sucking in your breath very quickly so that the coffee is transported to the roof of your mouth. Roll coffee over your tongue- trying to figure out what flavours you taste- and then let it fall into the back of your mouth.
Get in Touch Today
At 80 Stone we have a number of different and exciting wholesale coffee beans for you to choose from. As a coffee roaster, we can create some really interesting flavour profiles with our local roastery, giving you different tastes to experiment with. 
We offer La Marzocco coffee machine leasing and commercial coffee machine rental opportunities. This allows your baristas to get the best results with the coffee used in your establishment. If you feel your baristas need some help preparing the coffee, we also offer a barista training course on-site. 
Let us transform your coffee experience with exciting new flavours, skills and equipment. Get in touch today!
80 STONE COFFEE ROASTERS LONDON
Speciality Coffee Suppliers