A compact, easy-to-use home espresso machine with the powerful performance worthy of the La Marzocco name. Designed as a scaled-down version of the Linea Classic S, the Linea Micra combines a dynamic feature set and small body that allows you to explore the world of espresso. Easy setup, quick heat-up time, and all the essential tools, the Linea Micra makes dialing in your morning routine simple. Clean lines and timeless aesthetic inspired by a long line of espresso icons. Micra includes seven colors to choose from, elevating any home kitchen to café-status. Thanks to its new electronic board, the Linea Micra can now be connected to the internet and controlled through the new La Marzocco Home App, available on AppStore and GooglePlay.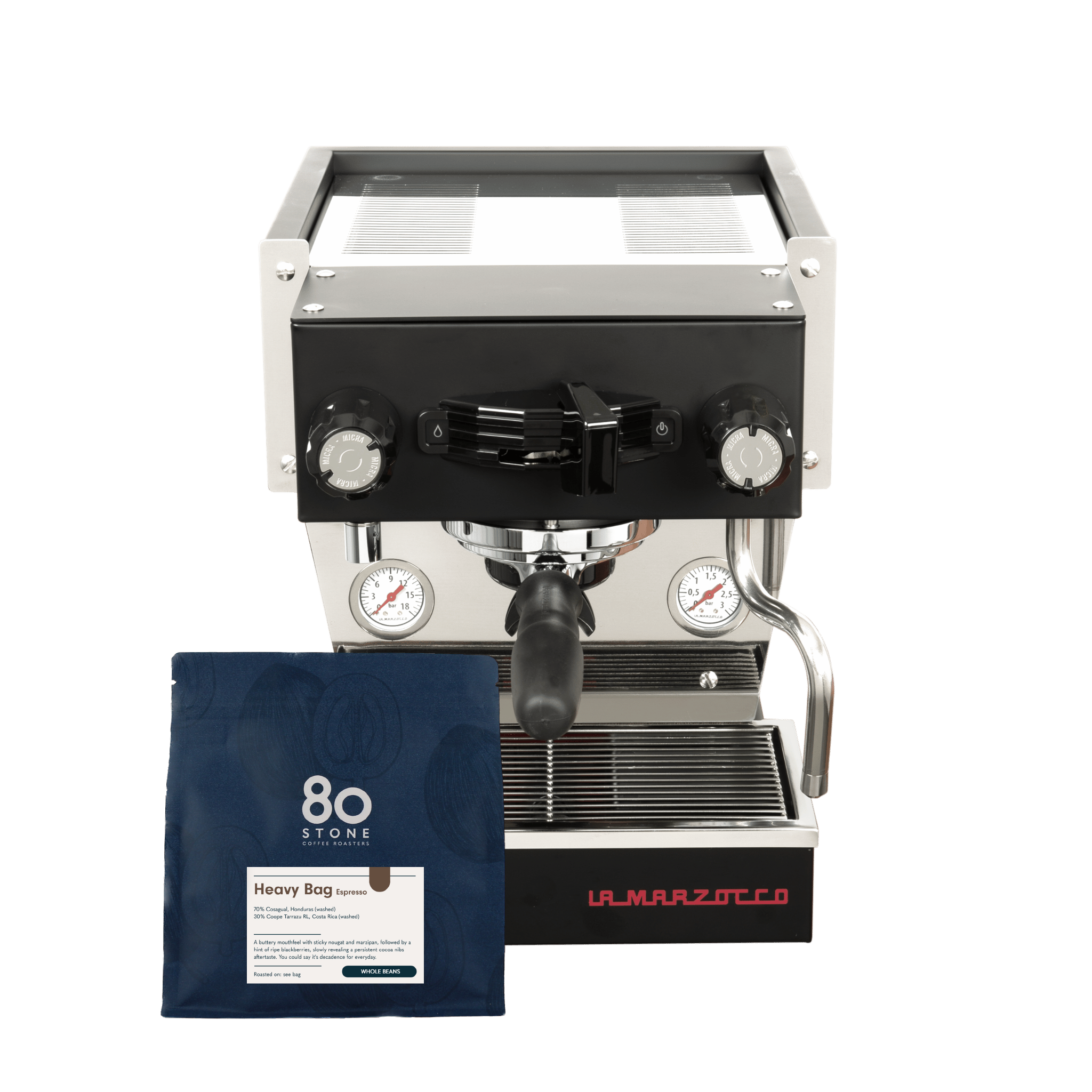 Height (cm/in): 
34 / 13
Width (cm/in): 29 / 11,5
Depth (cm/in): 39 / 15,5
Weight (kg/lbs): 19 / 42
Wattage (min): 1600 (110V)
Wattage (max): 1850 (220V)
Coffee Boiler Capacity: (liters): 2,5
Steam Boiler Capacity (liters) : 1,6
Free 80 Stone £150 espresso voucher - T's & C's
Once you succesfully complete an order of a La Marzocco Linea Micra through our link on the La Marzocco webstore, we'll send you a £150 voucher code via email. This will be linked to the same email address used at checkout to purchase the machine and will allow you to place one or more coffee orders using the credit of £150.
Voucher will be sent once La Marzocco will officially confirm to us that an eligible order has been succesfully completed using our link. Vouchers are valid 12 months from the date of issue, and when expired we will not refund any balance remaining and we will invalidate the voucher. Vouchers cannot be exchanged for cash
Vouchers can be used as full or part payment towards coffee orders placed on 80 Stone Coffee Roasters webstore, and are valid for our espresso coffees only (Heavy Bag Espresso, Off-Trend Espresso, Brisbane Espresso, Snooze Decaf).
If you are using a gift voucher and the total order value is less than the value of the voucher, any balance will updated, and may be applied to future purchases, provided that the voucher has not expired.
Voucher will not cover shipping cost, however we offer free shipping on all coffee orders over £30.
80 STONE COFFEE ROASTERS LONDON
Speciality Coffee Suppliers