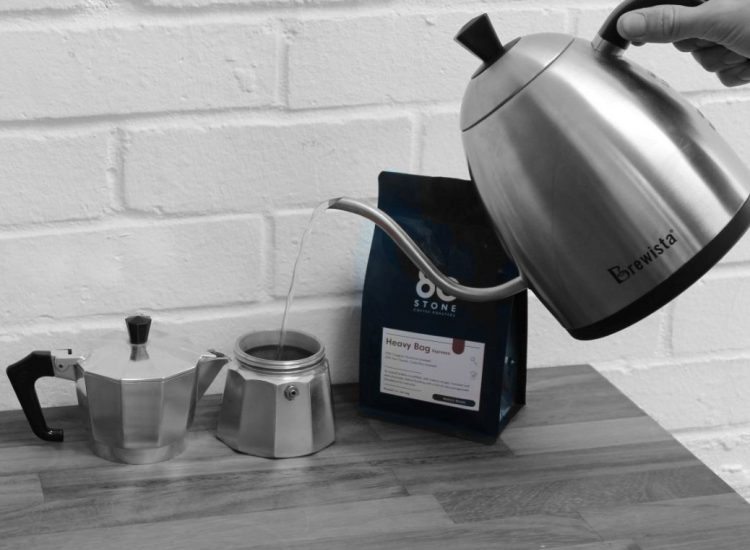 COFFEE   –     18g
WATER    –    160ml / 98°C
—
0:00 – TURN ON HEAT
2:00 – FIRST LIQUID
                                        LOWER HEAT
3:00 – FINISH
The Moka pot is a world famous, and very recognisable brewing method, invented in 1933 by Alfonso Bialetti, and has since become an iconic hallmark in Italian coffee culture, along with the espresso machine. It is favoured for its quick, simple, straightforward process, an its unique cup profile that falls somewhere in between an espresso and a filter coffee. It is also a fascinating design, and whilst it may not be our choice for daily brewing, whenever we use it, we are reminded of how fun it is to use, and how pleasant it is to drink.
There are a wide range of models, and the recipe you use will depend on the size of the Moka Pot, for that reason, we recommend adapting the recipe to size. We are using the standard 3 cup size, and will give our measurements with reference as well numbers.
What you'll need
A Moka Pot
A stove
Coffee
Grinder
Water
Kettle
A scale/timer
A cloth
Your favourite mug
Steps
Ensure your Moka Pot is clean and ready to use.
Heat your water up to 99°C, or just off the boil.
Add the water to the base of the Moka Pot, and fill to just below the valve, 160ml for a 3 cup Bialetti. The base will be very hot, so use a cloth to handle it.
Add enough freshly ground coffee to fill the basket, for our 3 cup Bialetti it was 18g, then level it out making sure you don't press down on the bed. The coffee should be ground slightly coarser than espresso.
Add the basket to the base, and screw on the top of the Moka Pot.
Place the Moka Pot onto the stove on high heat, leaving the cap open to avoid condensation.
 Around 2mins you should see the first drips coming out of the top, close the cap, then lower the heat.
When the Moka Pot is almost full, remove it from the heat.
All the liquid should be out at around 3mins.
Pour the coffee into your decanter/server. Then clean the Moka Pot.
Swirl the decanter to mix the brew, then serve and enjoy.
How to adjust
Try finer ground coffee for a sweeter thicker cup, and coarser ground coffee for a brighter more acidic cup.
This section is for those who want to go all in. It provides the extra details regarding our method, as well as the results we get when brewing, and are to serve as both guidance, and reference for those who want it.
Extraction
     Grind:                    250μm
     Yield:                     ≈65 % [in this case 100ml]
     TDS:                       tbc
     EY:                          tbc
Water content
     pH:                          6.8
     PPM:                      115
80 STONE COFFEE ROASTERS LONDON
Speciality Coffee Suppliers